| | |
| --- | --- |
| Posted on October 10, 2015 at 6:25 AM | |
I always hold my breath when I read a review of my work. In my head, I enter into a conversation with the reviewer; I want to explain what I meant by this word or that phrase, but it is none of my business – the book is out of my hands, the bird has flown the nest. So far, the reviews garnered by the publication of my second poetry collection are positive, and I'm posting this one here as it is only available on hard copy.
A review of Beyond Wings from Reach Poetry 205 by Bernard M Jackson, available from Indigo Dreams Publishing
My tread is the trespasser's, reined in
by old thorns, dead leaves, dead hands.
But I see brilliance through the leaves framed
by the overhung trees, a child in the light.
IN THE LIGHT
Alison Lock's asserted headway into poetic language and form has gained her the well-deserved recognition of art critics and various interested publication bodies, over the years, her poems and short stories having appeared in a fair number of anthologies and journals in the U.K. and internationally.
Prizes have been won by her In The London Magazine and The Sentinel Literary Quarterly, and her very first poetry collection, 'A Slither Of Air', which I was previously privileged to review, was winner of the Indigo Dreams Poetry Collection Competition. Alison was Poet in Residence at Holmfirth Arts Festival 2012, and her poem, 'Eye of the Heron' was performed at the launch, the following year.
Her current collection, 'Beyond Wings', is altogether quite absorbing, though one of her featured poems, 'After Matins' Reflections on Hildegard of Bingen, had me thumbing through my Britannica for more revealing information on this title character - Having ascertained which, the poem then made greater impact on further reading, and became really quite compelling, dealing as it did with a notable 12th Century; Benedictine abbess who had gained renown, in her time, as an outspoken mystic and visionary given to prophesy :
The music comes from dreams
visions of a human soul
a delicate song of the Virtues
too easily crushed.
AFTER MATINS
One of the outstanding gems of Alison's collection is the showcasing of her finely descriptive 'Eye of the Heron', a poem incisively developed through a succession of minimal Haiku-like, 3-line stanzas; a fine collective tableau evincing keen ornithological observation and interweaving key rural elements of that sleepy Dales setting :
a ministry
of airborne angel
over spire
where a brass band
plays
valley deep
EYE OF THE HERON
- just 2 of the 27 verses
- - And I strongly suppose that anyone with a fondness for gatherings of starlings really must be a genuine bird-lover. In this respect, I was immediately drawn to Alison's 8-line poem, 'Fugue'- Only 25 words in all, but so effectively depicted. There are some lovely minimal-Haiku poems in this collection, too :
undercurrents
ripple the slip surface
a sleek guillemot dips
EARLY MORNING, ISLE OF GIGHA
Alison is a self-styled 'traveller', and her work is interspersed with several brief prose passages, each vividly describing some celebrated beauty spot within the remit of her specified visitings, and showing a keen eye for detail, coupled with her gifted flair for faithful portrayal. This notable talent is also much in evidence in the various 'shape' poems introduced, and her development of a mathematical Fibonacci-numbered sequence (1,1,2,3,5,8,13 - -) is particularly commendable; so too, is her minimal 'Yin/Yang', shown here in full :
The sun is a splinter
in the grass.
A blackbird pecks at seed
luring a jay.
The moon is the blade
of a scythe
reflected in the wings
of moths.
YIN YANG
Prepare to meet an artist who paints with word and phrase, and combines subtlety of description with a charming sensitivity of presentation.
– Alison Lock's collection is one for the Bookshelf.
Bernard M Jackson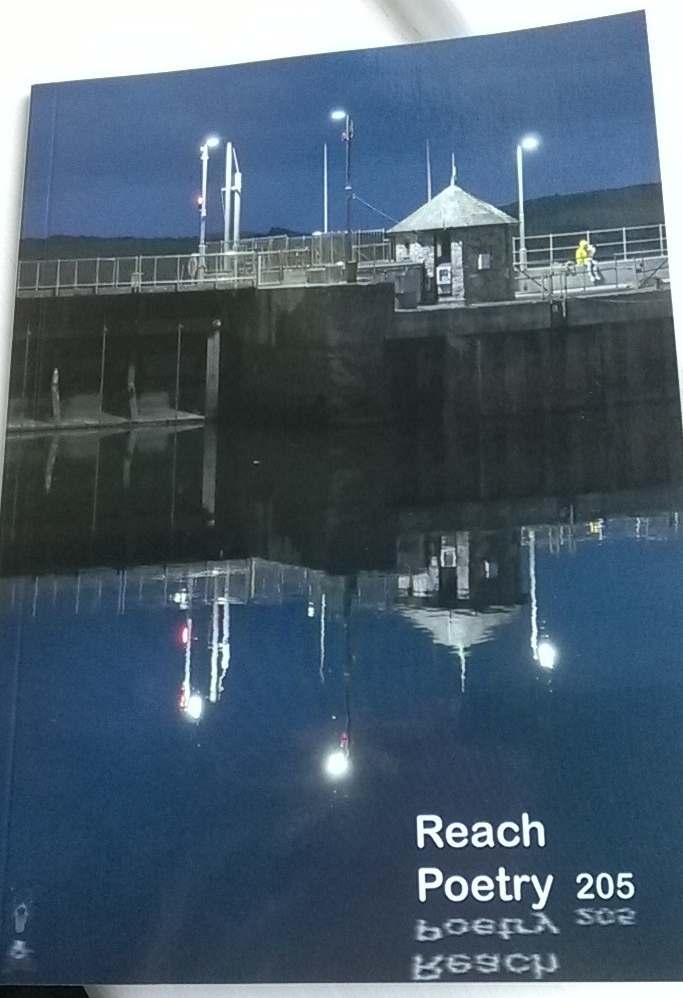 Categories: None