| | |
| --- | --- |
| Posted on February 3, 2014 at 6:15 AM | |
The source of a new project – Three Hares (Green Man, White Goddess).
Three Hares came from simple beginnings as all good things do–-in this case—walking through our local (South Pennine) woods. We ambled while we discussed our thoughts, reflections and ideas, often straying from the path to follow the leadings and the curious snufflings of Robin's dog. We skirted around the remains of mills-–walls that no longer enclosed anything or anyone, foundations that once upheld a weavers shed, a track that could only be traced by the remaining cobbles that were visible among the moss and brambles, rails that once carried the goods from mill to market, and even the protrusion of a tall chimney, intact, that could easily be the tower from the story of Rapunzel. The trees formed shapes with human attributes, albeit anthropomorphic–-an elderly willow bent under the weight of its branches, weeping; a gnarled oak, its bark contorted with years of gurning, a visage of fungal growths, scars, creating the face of the Green Man; the beech trees standing tall, their branches elevated, aloof, creating a canopy, a shielding from the stark stare of sky; and to the floor where the stars have fallen as wood anemones.
These valleys and ridges are the rain forests of this area, rich in history and fertile ground for the seeds of legend and myth. The sounds of the wind through the leaves, the water rushing through gullies, streams tinkling, the creaking of bark against bark, timber; timbre, harmonics, melody, pitch, rhythm.
What could be a better starting point for a collaboration: exploring the woods through the sonic patterns of words, song, music.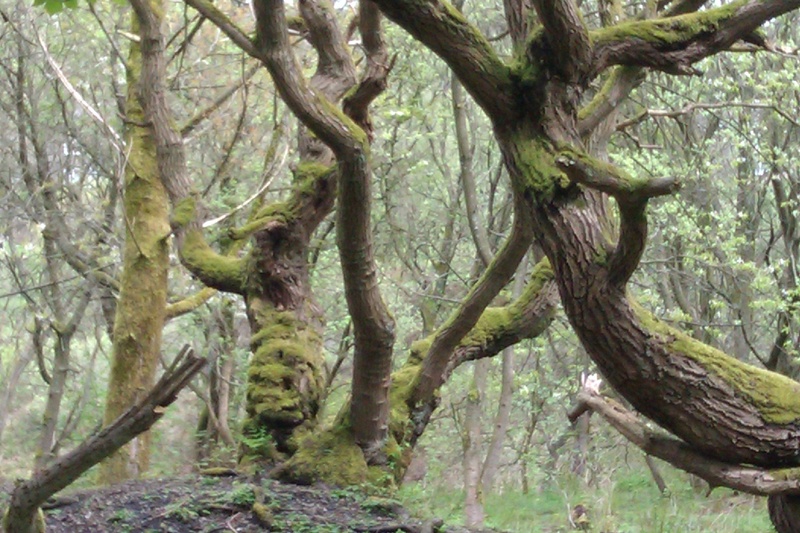 Why Three Hares? The symbol of the three hares is a universal meme. Three rabbits or hares (often carved in wood) chase each other in a circle, each of the ears is shared by two hares to form a triskelion in rotational symmetry. I took this as a reflection of the circular nature of the life of trees from root to growth, leaf, flower, seed, and also the divine and magical connections we have with our trees.
Our first outing will be when we take it to the Huddersfield Literature Festival in March 2014. We have also worked together on 'eye of the heron', (see page) a poem for the Holmfirth Arts Festival 2013. We decided that we wanted to do something else that would truly be a collaboration. 
Categories: Beyond Wings