I am very pleased to welcome Frances Gapper today.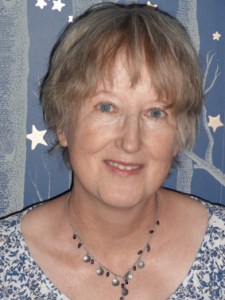 We began a conversation about the art of the short story and the intricacies of forming a collection and discovered that we have much in common, not least that we are soon to share the same publisher, Cultured Llama. Frances's new short story collection, 'Into the Wild Wood', has recently been published, and I am looking forward to reading it.
We continue our conversation here on the blog:
Alison: I have been thinking about how and when I started to write short stories. I have always tended to write short pieces, things that are focused, that narrow in on my subject, but this often results in a poem. Sometimes the words get no further than thoughts, or they are just pencilled notes, or even just a title to be explored later. It was during an MA in Creative Writing course at York St John University that I discovered the art of the short story. I learnt that it could be more than the telling of a story; that it was a way of expressing a notion, by giving it room to breathe. It was a revelation to me that a literary short story did not just have to be of a particular form but could be something that had artistic merit. One of the set texts for the course was The Art of Fiction by John Gardner. In it, he explores not only the techniques of creative writing but also the aesthetics of good writing. I felt I had permission to write short stories and to allow my inspiration to come from the same place as my poetry: the natural world.
Frances: This is really interesting, especially what you say about feeling you have permission to let your inspiration come from a certain truly inspiring place. The short story is in my opinion the freest of forms, despite being beset by 'rules'. I suppose I've felt this ever since my mid-teens, when I borrowed E.M. Forster's "The Life to Come and Other Stories" from the local library. It was truly shocking and revelatory to me as a shy and bookish teenager . I remember thinking at the time that the librarians had probably waved this book through without a glance - E.M. Forster's short stories, literary, respectable - and I felt quite guilty for having borrowed and read it. Guilty unlike the stories themselves, which from what I remember were ebullient and fantastical celebrations of male (homo)sexuality. Ever since then, I've had the feeling that you open a short story collection, or begin reading a story, at your peril, because literally anything could happen.
Jumping forward several decades to 2001, I attended an Arvon Course on the short story taught by Ali Smith and Toby Litt, and I remember Ali saying the short story can be anything you want it to be. As a short story writer, I find this thought very freeing. Again perhaps it's a matter of being given permission to write stuff that's self-chosen, maybe from a deeply personal source, or not personal at all.
Alison: I like the idea that a short story collection can be a carrier of the unexpected or can question the boundaries of propriety. Having to adhere to 'rules' when it comes to the writing of a short story makes me want to run in the opposite direction. I just cannot do it. But I am aware that I have written some stories where the conventional idea of the plot has been discounted to the extent that the piece might be described as a vignette. I suppose our first story experience comes from the oral tradition where a story begins and works through an arc towards the end where a moral lesson is learned. Perhaps it is the act of writing down a story that gives 'air' to the form. I always prefer a story that reflects life as it is – messy without a neat conclusion and with characters that make mistakes and do not learn necessarily their lessons. I remember coming across Chekhov's short stories for the first time and being surprised that his characters often do very little regarding action but at the same time have complex inner lives, characters that form the mood of the story. I think that is very clever.
Frances: I agree with you about rules, though I like the writing exercise sort of rule that's more like a game - e.g. write a drabble (100-word story) or a dribble (50 words) using as many words as possible that contain double fs - that sort of thing. For several years I belonged to the WriteWords flash fiction 1 group and we ran weekly challenges of this sort, which often threw up some good stuff. Also I like arranging very short stories together to form longer ones - two of the stories in 'In the Wild Wood', including the title story, were created like this. Flash fiction can be put to surprising uses - for instance, I don't write poems, but four of my very short fics - perhaps vignettes, I'm not sure - were included by Mandy Pannett in the anthology Poems for a Liminal Age (these also appear in my collection).
ps I like Chekhov very much too!
Alison: That's interesting what you say about arranging short stories together to form one longer one. My only experience of that was of writing two stories over the same period that were very different in style and subject matter. On their own, they did not have so much to say, but together, almost because of the contrast, they added to the other. I played around with this idea and threaded them together. I wasn't sure if anyone would be interested in the result, but it was accepted straight away for publication by the Lakeview International Journal of Literature and Arts. Flash fiction for me has come about by the paring down and editing of a longer story. I realised that sometimes the value of the story is in the essence of the idea and that I just need to let it stand alone unhindered by the complexities of a longer storyline. In putting together my new short story collection, I have included some very short pieces alongside the longer stories. When I come across flash fictions within a collection, I think it is like finding gemstones on the beach. With your collection, 'In the Wild Wood', how did you decide which stories to include?
Frances: I'm very struck by what you say about sometimes the value of the story being the essence of the idea and that needing to be left to stand alone sometimes. I'm always building longer stories out of flashes, or plucking the flash from the story, or constructing and deconstructing in other ways. One of the stories in my collection, 'Sister Joy and the Spider', is all that remains of a full-length novel about nuns, which took me several years to write and which at last I had to reluctantly accept didn't work as a novel. I also had an unsuccessful longer story called 'A Rose for Mrs Columbo', traces of which are incorporated in 'In the Wild Wood', the title story of my collection. It's like I have bits and pieces of story material strewn here and there, or sitting in places that aren't quite right for them, and perhaps they'll fade and disappear, or inspiration may strike at some later date and I'll pick them up and weave them into the right place, or edit a story right down and see if that works better. Re. deciding what should be included in the collection, I was very much influenced by what other people had liked or responded well to over the years - not necessarily competition successes or things that had been picked up by literary mags, although certainly those had a good chance. A story called 'Broken Thing' that had won the SaveAs Writers competition judged by Maria of Cultured Llama had to go in, of course, since I had it to thank for Maria contacting me and inviting me to submit a collection to CL. Incidentally this story had been doing the rounds of competitions etc for what felt like (and probably was) years, but during that time had gradually improved, especially after I got feedback on it from my online writing group. However, the title story 'In the Wild Wood' was the one that felt absolutely central to the whole collection. I wonder if you have a story you feel like this about?
Alison: It's easy to be affected by a favourable response or a rejection from an editor, but at the end of the day, you as the author have to decide which stories to include in the collection. Rather than be eclectic, I try to explore the themes of my new collection by putting together stories that flow from one to the next even though they are unrelated. 'Flow' is the right word, I realise, as many of my stories have watery themes, of sea, rivers, pools.This idea of thematic collation probably just comes from my sensitivity as an author because I must admit that when I read a collection of short stories I do not always start at the beginning and work through to the end in order. It all depends on my mood, the time of day, energy, etc. I will often choose a story by its length or first paragraph. I am aware that a reader has to invest their time in a story too. I worry that by having a title story it will carry with it an expectation to somehow be the best of the bunch, and that's not necessarily the case. The stories in my collection have nearly all been previously published, but that is not the most important criteria. They need to earn their place.
Frances: Oh yes, I know what you mean about the author's final responsibility to decide what should be in the collection. Mine includes a couple of longer stories, written over the past year or two, that haven't got anywhere in competitions but my faith in them has remained strong and in very different ways they're relevant to my theme of Loss. One is 'A Game of Queens' (loss of bearings), which my partner Deryn thinks is great though it's puzzled other readers, the other 'Rabbit On' (loss of husband, children, rabbit), which Helen Oyeyemi mentioned she particularly liked. So in other words, it only takes one other person, not necessarily a judge or editor, to confirm my belief in a story. Another one Helen liked is 'The Poetry Course' (loss of hopeful expectation) - this was published quite a long time ago in a small online literary mag and I wouldn't have thought of including it had not Sommer, a member of my online writing group, come across it somehow and told me she really loved it - that reminded me that although it's a fairly slight piece, I love it too.
Alison: Sometimes it just takes one other person to show enthusiasm for your story, doesn't it? I think as a writer it is so easy to become lost in the writing and no longer be able to read it objectively.
Frances, I can't wait to read your collection! From our conversation, I just know I will love it. Thank you for coming on my blog, it has been very interesting chatting about short stories, I hope we may meet in real life one day and continue. For now, I wish you all the best with your new book. Into the Wildwood can be purchased from Cultured Llama HERE.